Today more than ever we need to be thinking about how to future proof our career and businesses.  Technology is changing how we do things and in order to survive and thrive, we need to embrace what it means to be human more than ever.  My passion is to help others see their unique offering and express it authentically in the world. Sharing all my tools and resources to support your journey is part of a continued success, everything you need to build your best self! If you are ready to build your business in Scarlett's 7 Step Process, then BOOK a FREE 15 Minute chat to see how I can help you bring your brand to life!
For a Brand Expert that know's how to help individuals create a successful sustainable future. 
Why Brand You? 
And What Clients Say...
WATCH VIDEO
Meet Mrs V and discover that you may be feeling like others about your career and business - know you are not alone!  Find out what her clients say about their results, their experience and why they believe this experience is one of the most unique available.
Latest 'Executive Branding' Transformation
JULIE HYAM ELLIOTT | BUSINESS GROWTH STRATEGIST
Before
After
Julie Hyam Elliott is an Executive Women, former CEO of Bank of Sydney, Director of P & N Bank. We articulated her personal brand as a 'Business Growth Strategist' and as someone who is a disruptor by her skill, experience and nature. She embraced the cutting edge style that expressed her innovation and confidence. We created a website to express her uniqueness which included a video and imagery to tell her story and message.
www.juliehyamelliott.com
If you are wanting to brand yourself, a business or discuss an idea you have, then the most simple and effective way forward is to book a brand session with me first! We can do the session via phone, Skype or in person, all you have to do is book online. Once you have booked, I send you some thought provoking homework to get you ready to see what's possible. In the session, we explore where you are at, your vision and then the best way forward to make it happen.  Afterwards, I give you a written/report about the session outcomes and if I can be of service, I will also provide a written estimate and description about what I can produce for you to bring your dream to life. Easy!
A session first is a great way to make sure we are the right fit and you feel comfortable to move forward OR you may have what you need to begin your journey alone (yes the sessions are pretty jam packed). In the meantime, I am building the Mrs V Academy, that will give you a lot of DIY guides to building your own brand, however, I believe doing a session first, will give you a great head start. You can book below and I would be privileged to help you on your excited journey ahead.
Testimonials
PRAISE
As a CEO trust is important and Scarlett's branding method is skilled, using her vast knowledge and experience in branding and social media. There is a distinctive point of difference and that is the way she uses her intuition to navigate every part of the process. Her video directing is amazing, she enabled me to be authentic, confident as I communicated my message.I loved the process and in fact my and highly recommend for any leader or CEO looking to stay ahead of future trends, work with Scarlett to take you to that next level.
Tracy Howe
CEO of NCOSS
Scarlett is truly gifted in the area of personal and business branding, she has an innate ability to discover the essence of the brand, establish the target market and create a beautiful solution that stands out. She delivered on all her promises and when you discover her many creative talents, the more extraordinary the result for your brand
Josephine Corcoran
Holistic Executive Coach
I absolutely had a shift. I realised that I have focused so much on my career, my family and my relationships over the years, that whilst I have been telling myself it is time to do things for me , I haven't been doing it right! The day gave me clarity, and refreshed me for my business and life.
Jane Simpson
HI BROW EYEBROW
Your warmth and your gifted intuitive insight helped me to define my direction and ignited trust and belief in self and my path. I walked away with new excitement and understanding with where I am at, also with constructive tools, gorgeous crystals for support and your wise insightful gold nuggets. I feel uplifted with fresh hope and clarity as I continue my life journey
Charmion Toltz
Stylist
I felt a big shift and change coming but yet I could never grasp it until I met Scarlett. Her insight, intuition and warm approach made me believe in myself and want to embark on this journey of self discovery and growth on a much deeper level than I had imagined. Thank you Scarlett for making me face my barriers and challenges and inspiring me to embrace the shift that is to come. The best is yet to come.
Rita D.
Account Director
Scarlett took the time to understand who I am and to say that i thoroughly enjoyed the process is a massive understatement. Scarlett is extremely passionate about her work and a way of putting you at ease whilst helping to create, shape and define your brand. she has been a very positive influence on my journey and reminded me to believe in myself. Thank you Scarlett!
Louise Burton
EA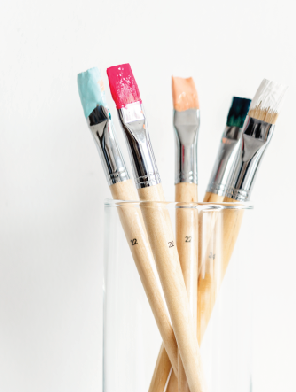 Get started with my FREE 'Brand Tool Kit' to create your BEST YOU!
Receive Mrs V's 'Brand Tool Kit' delivered to your inbox right now PLUS weekly tips on how to stay inspired!